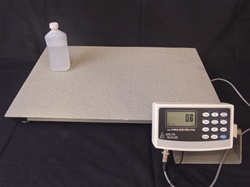 Chemical- or water-intensive environments can cause real issues when it comes to the equipment you use everyday. Corrosion can affect performance and even cause complete equipment failure, creating potentially dangerous situations for employees and property. It can also take up valuable resources when it comes time to repair or replace the damage. Scales are no exception. If your business requires scales to weigh, dispense or otherwise measure corrosive chemicals or ones that can be used in a wet or wash-down environment, you need a corrosion resistant scale you can rely on.
Corrosion Resistant Features
Our first line of defense against corrosion is our full stainless steel construction. When placed in an oxidizing environment, stainless steel actually produces a thin, protective surface film that reduces the rate of corrosion to almost negligible levels. Stainless steel is also tough enough to stand up to the harsh use it will receive in an industrial environment and will protect your scale's internal components from accident hits, bangs and jolts that could damage another scale. We also use stainless steel load cells. Liquids can seep into the interior of your scale. Some corrosive substances give off caustic fumes that can penetrate into the depths of your scale and cause serious damage. Considering that the load cell is the internal component responsible for the accuracy of your measurements, you want to make sure your scale provider takes steps to protect it from these elements. As an additional precaution, we use a thin layer of silicone to coat the electrical components of the load cell. And stainless steel not only protects your load cell, it also provides you with more accurate measurements because it is better able to reject horizontal forces and is less subject to plastic deformation seen with other materials. Many manufacturers use a simple paint or powder coat to "protect" their scales' platforms, but in reality this offers little in the way of corrosion resistance. All scale platforms are subject to scratches, nicks and chips that can be taken advantage of by caustic materials. But Arlyn Scales is never satisfied with the status quo. Instead, we coat our stainless steel scale platforms with a unique triple epoxy. Infused with mica particles that protect the scale from corrosion, it's also infused with garnet particles that help resist scratching and abrasion. This epoxy adds years of useful life to our corrosion resistant scales.
Available Capacities
We offer several high-capacity corrosion resistant scale models:
| | | | |
| --- | --- | --- | --- |
| Product Code | Capacity | Resolution | Platform Size |
| 320D-CR | 500 lbs | 0.1 lb | 20″ x 27″ |
| 320M-CR | 1,000 lbs | 0.2 lb | 20″ x 27″ |
| 320D-CR-36 | 500 lbs | 0.1 lb | 36″ x 36″ |
| 320M-CR-36 | 1,000 lbs | 0.2 lb | 36″ x 36″ |
| 5-4405-CR | 5,000 lbs | 1 lb | 48″ x 48″ |
| 5-4410,CR | 10,000 lbs | 2 lb | 60″ x 60″ |
However, we realize that these options may not suit every possible need.
Custom Weighing Solutions
Because we're a factory direct scale manufacturer, we have the luxury of offering custom design and development services. If you need a higher maximum capacity, a unique platform size, a higher resolution or some other option that you've been unable to find anywhere else, Arlyn Scales can craft a custom solution that works for you. We've been a leader in the design and development of technology for the weighing industry for 35 years now. We've had plenty of experience solving complex weighing problems and would enjoy the challenge of solving yours. So don't be shy with custom requests! We gladly invite OEM interest as well. If you require a scale or weighing component for a project you're working on, we're happy to make our design and production services available and welcome the opportunity to apply our considerable expertise to any situation requiring weighing. This includes load sensor design, microprocessor instrumentation, computer software and more.
You Can't Beat Factory Direct
Our factory direct business model also has other implications for you. We pride ourselves on providing our customers with the latest technology, superior quality and the utmost value. We've eliminated the middlemen, distributors and importers that drive up the prices of our competition's scales, which means we have more resources to put into research, design and development. Our scales feature many extras that can only be found on other scales costing three to five times as much. We also offer extremely competitive, factory direct pricing. All this means is that you get a higher quality product at an extremely competitive price.
Other Features
If you need to transmit, store or share your weight data, we offer a variety of communication options for you to choose from. These include Wi-Fi, Ethernet, Cloud, USB, 4 Ð 20 ma, RS-232 and more! If you use your scales to partially or fully automate parts of your manufacturing process, ask us about our setpoint controller. It allows you to set up to eight target weight values that can start or shut off other piece of equipment, send alerts and control feeders, mixers, motors, valves, solenoids and other devices. Input formulas to control how your output lines behave and save them for future use. These are just a few of the options we provide, so if you need something specific, don't hesitate to ask. Do Your Corrosive Materials Pose a Fire or Explosion Hazard? We also offer a line of explosion proof Intrinsically Safe Scales for use in an impressive range of classified hazardous locations. So if you handle flammable gases, liquids or vapors; combustible dusts or flammable fibers or flyings, be sure to ask us about our ArlynGuard series of scales.
Find Out More
If you have any questions about our corrosion resistant scales or would like to discuss the specs for a custom project, contact us today. We're available to provide more information, walk you through the selection process and to discuss your options when it comes to a custom solution. So whatever you weighing needs, trust Arlyn Scales to meet them!