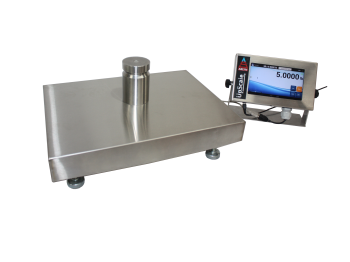 The first step in the scale buying process is realizing you are in need of a quality-made and accurate industrial scale. Then, you must determine what kind of scale is best for your specific weighing applications and you need a manufacturer that can make a scale that meets your particular requirements.
If you are in need of a High Resolution Scale, then look no further than Arlyn Scales. Arlyn Scales is recognized as a top designer and manufacturer of industrial scales and has been for over 30 years. Arlyn Scales' large assortment of industrial scales includes everything from floor scales to parts counting scales, and a number of our scales incorporate our internationally patented Surface Acoustic Wave (SAW) technology.
What's After Step One?
After you decide you are in need of a High Resolution Scale, presumably because you are measuring small and lightweight objects, then you can determine which High Resolution Scale is right for you.
Arlyn Scales manufactures a series of High Resolution Scales with maximum capacities ranging between 200 and 6,200 grams. Our High Resolution Scales have varying resolutions, as well. For example, the 7-200g High Resolution Scale has a resolution of .1 milligrams and the 7-6200 gram High Resolution Scale has a resolution of .01 grams.
To determine which High Resolution Scale is right for you, you must decide what you are going to weigh and how accurate you want your weight readings to be.
If you are looking for a High Resolution Scale that is even more accurate than the scales options listed above, then you might consider a High Resolution Scale made with Arlyn Scales' SAW technology. These scales deliver accuracy as high as .005%. Compare this to regular High Resolution Scales, which deliver weight readings with .1% accuracy and you can easily see why Arlyn Scales' High Resolution Scales are superior.
Choosing Your High Resolution Scale
Picking out the customized features for your High Resolution Scale from Arlyn Scales is simple and fast. First, you choose the maximum capacity and resolution you need. Next, if you are interested in any additional upgrades, like Winwedge Standard or Professional, or a RS-232 port, then you can add these to your scale for an additional cost.
If you are in need of a High Resolution Scale, but you can't find what you are looking for on Arlyn Scales' website, then do not hesitate to reach out to us. We can let you know more about the scale options we have and what we can do to accommodate your specific needs.
Once you choose the scale customizations you want, you can add the scale to your online shopping cart and complete the purchase.
High Resolution Scales for High Capacities
For measurements exceeding 10 pounds, you might consider Arlyn Scales' Ultra Precision Scales. These scales incorporate SAW technology and are available with maximum capacities ranging from 10 pounds to 1,000 pounds. Resolutions span from .0001 pounds to .01 pounds.
What to Know About Arlyn Scales Shipping
In addition to Arlyn Scales' premium industrial scales, there is one thing the company takes special pride in: their factory-direct pricing. For over 30 years, Arlyn Scales has been designing and making industrial scales, and it's all happened in one location: Long Island, New York. This means Arlyn Scales' products never need to go through middlemen and Arlyn Scales can sell directly to consumers.
Moreover, Arlyn Scales acquires materials from sources in the United States of America, so customers can be confident they are receiving quality-made industrial scales that are manufactured from start to finish in the U.S. This also helps to keep product and shipping prices low, because Arlyn Scales never needs to accommodate for overseas shipping and labor costs.
From the beginning of design to the moment our scales ship out to customers, Arlyn Scales oversees every aspect of manufacturing that goes in to our industrial scales. Arlyn Scales' customers receive the very best quality industrial scales for prices that are equal to or less than lesser-quality industrial scales.
What's This About Surface Acoustic Wave Technology?
So now you know what's involved with choosing your very own High Resolution Scale and why the prices of these scales are much lower than what may be expected; however, do you know what truly makes Arlyn Scales' High Resolution and Ultra Precision Scales special?
Surface Acoustic Wave technology is one of the biggest breakthroughs the scale industry has seen in a long time. Arlyn Scales took the benefits of Strain Gage Technology and Magnetic Force Restoration Scales (also known as MFR), combined them, and eliminated all of the negative aspects of each.
With Surface Acoustic Wave technology, industrial scales can successfully deliver extremely accurate weight readings without being restricted by weight capacity. Arlyn Scales found a way for scales to deliver the same level of results as MFR scales for the price of Strain Gage Scales.
You can get a scale with SAW technology today with Arlyn Scales' High Resolution Scales and Ultra Precision Scales. Visit our website to view our full selection of scales with SAW technology and learn more about SAW technology while you're there.
Recalibrating Your Scale
When you purchase a High Resolution Scale from Arlyn Scales, you can get a scale crafted to fit your particular needs, including: accuracy, weight capacity, construction, and more. But, what happens when you have the perfect scale in your possession and it starts acting up? Well, one of the best features of Arlyn Scales' products is that our scales are self-calibrating. This means our scales can recalibrate themselves. So, if you ever notice discrepancies in weight measurements on your scale, then you don't need to reach out to someone to fix your scale. You simply need to set up your scale for recalibration and the scale will be back to producing accurate and precise weight readings in no time.
Contact Arlyn Scales
Call Arlyn Scales at 800-645-4301 or fill out our online contact form with questions or comments regarding our industrial scales. Visit Arlyn Scales' website to learn more about our scales and SAW technology.