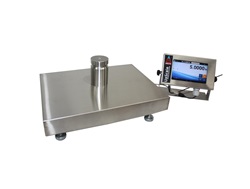 Industrial, veterinary or custom scales, whatever your scale needs, you want a product that will give you the accuracy and precision you need to do the job right. At Arlyn Scales, we know how important scales can be, and our team works hard to find the right scale equipment, with the right scale technology for each of our customers needs.
We also know that just because you are weighing larger items, you can't necessarily accept less precise measurements. That is why we strive to improve our scales to meet our customers' needs regardless of industry, veterinary usage or custom requirements.
Different Quality Scales for Different Industry Needs
Our standard products include many different models of platform scales, bench scales, floor scales, ultra precision scales, cylinder scales, animal scales and high resolution scales. We also carry highly precise rain gauge scales with power supply protection for this special application.
With all of these different types and models of scales, it is highly likely that we will have a standard scale product that meets your needs, but we also offer custom scale design and manufacturing if this is truly needed to meet very specific application needs. Even within our standard scales, we have many customizable features to make the scale you choose work the best for your company's needs. Here are two of our larger floor scales that could be considered for your needs:
Series 5200: 5-7920 Floor Scales with Large Graphics LCD Digital Display: This is one of our largest capacity standard floor scales, which can handle 20,000 pounds in 5 pound increments and it has a standard platform size of 7' X 9' X 4", with optional load ramps. The scale is resistant to abuse and very robust because of the heavy-duty industrial grade load cells that are used in the design.
The indicator can be either the UPSCALE-9 or MKE-5 model, and connectivity options include Ethernet, Wi-Fi, USB and RS-232. Many other platform sizes, load capacities and resolutions are available in these standard floor scales and pallet scales from 4′ `X 4′ to 5′ X 5 size with 500 pound by 1 pound capacity to 20,000 pound by 5 pound capacity. Materials are made from steel, welded construction with a special zinc rich epoxy for superior rust resistance. An option of stainless steel for better corrosion resistance is also available.
Floor Scales for Livestock, Alpacas and Lamas: We know that you need some special features on a scale for weighing livestock that are not standard on an industrial weight scale. While you still want a low profile platform so that animals can easily step on and off, you also need to provide accurate weights when an animal is not standing still and for that, the Arlyn "weight average and hold" is ideal.
Arlyn uses no moving parts to increase the ruggedness and longevity of these scales. Excellent shock and abuse resistance is guaranteed by the use of stainless steel load cells embedded into the welded frame. Platform sizes are 22" X 44" or 27" X 60" with capacity of 500 pounds by 0.1 pound increments. To provide resistance to moisture, including animal waste and other corrosive elements, the load sensors are coated and protected, and the display housing is gasket sealed.
Standard Options for Customizing Your Scale
We realize that even when purchasing a standard design scale you will want to be able to customize some features to improve the usability and user experience in your company. This is why we have some standard options available for you to consider. While these options are not necessarily available on all or our scales, they are there to be considered on many different models:
Indicators can either be MKE-5 with a simple readout and button controls or UPSCALE-9 with a more graphical readout and touch screen controls.
Analog Output can be added to communicate with chart readers and programmable logic controllers to set the start and ending voltages or currents to control.
Connectivity through Ethernet, USB port (virtual COM port drivers), RS-232 computer/printer port or many other available connections to a computer are available.
Label, paper and card printers are available to record measurements.
USB memory stick datalogging is available to record weights with times, data, group and item information. This information is saved on an SD memory stick that can be read in Excel or another charting program when removed from the scale.
NEMA 4X stainless steel display enclosures are available to increase the durability or the display in rough conditions.
Setpoint controllerss and relays can be added for filling operations and relay control to activate other process equipment based on weight measurements. Up to 8 relays can be controlled this way, and both AC and DC relays are available.
Time & date output is available in 12-hour or 24-hour formats, including day of the week and date. This can be added to any print frame and the internal battery will keep time for up to ten years, even if power is interrupted to the scale.
We also offer proprietary data collection software that is available to help automate your data collection from one of our scales.
Arlyn Scales: When You Need the Right Scale On Time
The team at Arlyn Scales know what we need to do to keep our customers coming back, which is to simply meet or exceed their measurement equipment needs. We have been doing this since we started manufacturing scales, and we will continue to do this because that is what our customers want. We strive to provide superior quality products at affordable prices, and by providing shipment right from our factory, we can make sure that the scale you need gets to you in the least amount of time. We know that when you need equipment, you can't always wait.
For fast service you can contact us online and one of our dedicated team members will quickly return your message with the answers and advice you need to make the right scale choice. If you want more immediate service and you are local to Long Island, NY, call us at 516-593-4465, or national customers can call us toll free at 1-800-645-4301. We are here when you need the right weighing equipment, at the right price, delivered factory direct.