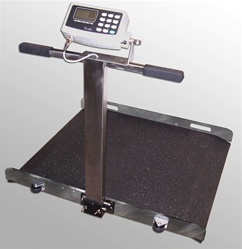 Physicians know that patients who are unable to maintain a healthy body weight are at a higher risk for certain diseases and complications including:
•    Diabetes
•    Heart disease
•    Lung disorders
•    Osteoporosis
•    Weakened immune systems
•    Respiratory problems
The increased risk makes monitoring the weight of patients an important part of healthcare. Yet not all patients are able to step on and off a scale, which makes a wheelchair scale a necessity.
Four Major Criteria For Choosing a Wheelchair Scale
1.    Ease of use for the wheelchair bound patient and the caregiver
2.    Accuracy of the scale
3.    Ruggedness and durability
4.    Cost
The Arlyn 320-WC model wheelchair scale outperforms
the competition in all these categories.
1.    Ease of Use
Our wheelchair scales come with an on/off ramp that has a gentle incline, making it easy for a patient or her caregiver to roll the chair onto the scale's generously sized platform.
Sturdy grab bars allow patients that can stand or walk short distances on their own to use the scale safely.
With a profile less than two inches high, a gently inclining ramp and a rubber mat on the platform, the scale is not a tripping or slipping hazard.
If your medical center runs on a tight budget and cannot afford to put a wheelchair scale in each room, we offer a portable option that can be moved from room to room. It features a lightweight aluminum frame, side casters, fold-down posts and a rechargeable internal battery pack with an AC adapter. This design is incredibly mobile and incorporated into a busy schedule.
If you use an electronic medial record system, you can even have patient weights communicated directly to the file with our Bluetooth enabled system. The scale does not need to be connected to a computer to do this, which preserves its portability while allowing you to keep accurate patient records digitally.
2.    Accuracy of the Scale
The 500-1000 pound maximum capacity easily accommodates patients and chairs of any size to a 0.1-0.2 pound resolution (depending on capacity chosen). The scale's large internal memory holds hundreds of values for a variety of wheelchair makes and models. No mathematical calculations need to take place; the scale automatically subtracts the weight of the wheelchair model selected to provide the weight of the patient on the large graphical display.
Stainless steel load cells and a modern electronic design provide unparalleled accuracy. The automatic calibration feature means that no dealer service or repair is required. A motion compensation feature rejects inaccurate measurements caused by excessive movement.
3.    Ruggedness and Durability
Instead of aluminum or plated steel load cells, we use stainless steel for its superior strength and resilience even when placed under duress or handled roughly. Coupled with heavy-duty, rust resistant welded frame, these scales provide years of trouble-free use.
4.    Cost
As a factory-direct manufacturer, we're able to avoid the additional costs imposed by dealers and distributors. We offer superior features, better accuracy and quality construction at half the cost asked by our competitors. Our scales are made in the USA which means lower shipping costs, better quality products and faster lead times.
High cost trucking is usually required to ship a wheelchair scale, which can easily cost an additional $100 or more. Our wheelchair scale is the only full-size model designed for shipment through standard parcel channels like UPS.
Order an Arlyn Wheelchair Scale Today
Trim budgetary expenses and take even better care of patients. Order an Arlyn wheelchair scale today or call us at (800) 645-4301.