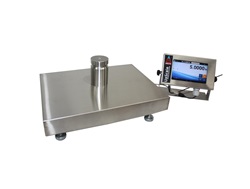 Similar to most industries, scale technology has changed dramatically over the past several decades. Many years ago, scales featured a simple analog display with absolutely no digital information. Fast-forward to more recent times and scales featured digital displays with a few basic buttons used for control.
As business owners looked to do more with their weight data, scale manufacturers have improved their display functionality for both ease-of-use and to support a variety of new features.
At Arlyn Scales, instead of starting with a digital indicator with limited functionality, we started with a fully featured touchscreen indicator, which offers a wide array of features for our customers. This new indicator, which we call the UpScale Touchscreen, is offered as an option on most of our high quality industrial scales.
As scales have become an incredibly important part of many businesses, it's important for them to not only be accurate, but also user friendly. With Arlyn's UpScale High Tech Digital Weighing Indicator, users can easily access all of the many features of our state-of-the-art scales without the confusing menu systems seen on many digital indicators.
Popular Features of the Arlyn UpScale High Tech Digital Weighing Indicator 
Below are just a few of the many reasons why a large number of our customers are choosing our UpScale Touchscreen indicator instead of a standard digital indicator.
State of the Art Processor
Think of the Touchscreen display as a computer in its own right. To make sure that our display can handle even the most rigorous functions, we've used a Quad Core processor with 8 GB of storage space and 1 GB of RAM. This processor and memory combination ensure that the user experience of the touchscreen is smooth and fluid at all times.
The Arlyn UpScale Touchscreen is a 7-inch HD IPS capacitive widescreen display offering a resolution of 1024 x 600, with a 5-point touchscreen area. We felt strongly about utilizing an IPS display to make sure our customers could view the display indicator from all lighting conditions and viewing angles.
High Quality Construction
Our touchscreen unit is also water-resistant, featuring a rubber gasket and molded enclosure to ensure water is always kept out of the integral components of the display indicator. Customers can also purchase an optional stainless steel enclosure to better protect the unit from corrosive chemicals and materials.
Aside from the optional stainless enclosure, we feature a standard stainless steel swivel bracket making it extremely easy to turn the touchscreen unit to be viewed from any angle. You can also mount this display on a desk, table or even the wall, as opposed to directly to the scale.
Another requirement of our customers is the ability to have a display that operates in a variety of different temperatures. Our UpScale Touchscreen indicator supports a temperature range of 14°F to 104°F, allowing it to easily meet the needs of most of our customers.
One important factor when implementing our Touchscreen indicator was accuracy. We wanted to be sure that no matter how many features were added to the Touchscreen display that the accuracy of weight measurements were not compromised.
We're proud to say that despite all of the features packed in our Arlyn UpScale Touchscreen display, the accuracy still rivals the best digital display indicator on the market. Additionally, users can easily adjust the device usability through zero tracking, stability controls, zero motion detection and software filters defined by the user.
One of the reasons that many of our customers come to us for all of their scale needs is because of our products' ease of use. This is especially the case with our Touchscreen indicator. We've found that a touchscreen allows us to eliminate much of the complexity seen with scales controlled using standard digital display indicators. Your employees will need very little training to master the many functions of our UpScale Touchscreen. Just as tablets are used by people across all ages and skillsets, our UpScale Touchscreen is meant to be easily mastered by the any user.
Battery life of the Touchscreen should last 1-2 hours after which users can plug the device into a power source for charging.
With customers all over the world, we offer regional time zone support as well as built-in time and date functions and support for day light savings time.
Wide Support for Unit Measurements 
Our Touchscreen features support for multiple units as well as conversions, including ounces, grams, pounds, kilograms and many others. Additionally, the unit supports many tare functions including tare, keyboard tare, quick tare, instant search/sorting and database tare storage.
Wide Variety of Communication Options
Just like with our standard digital indicators, the UpScale Touchscreen supports a wide range of communications options, several of which are explained below:
Ethernet/WiFi – No matter where your scale is located within your facility, our Ethernet support allows you to connect an Ethernet cable to control and access data from your scale. Think about the possibilities of controlling your scale from your office or from across the country provided that you have an active Internet connection. Our scales also offer Wi-Fi support for situations where running an Ethernet cable is not feasible.
RS-232 – A RS-232 or serial connection is one of the most reliable methods of data transfer. Simply run a serial cable from your scale to a computer to access scale data as needed.
USB – Another common connectivity option is the ever-popular USB cable. Our Touchscreen indicator features full USB support. Simply connect a USB cable between your scale and a computer and use our free software to control and access any weight data.
Datalogging – If a computer is not available, yet you still need access to weight data, we also support a datalogging function. With datalogging, you can simply plug a portable USB drive into your scale to download data to be analyzed at a later time.
Still Have Questions About our UpScale Touchscreen Indicator?
The many features of our UpScale High Tech Digital Weighing Indicator offer of a range of benefits. For more information on this Touchscreen as well as all our different scale models, contact us today at 1-800-645-4301.