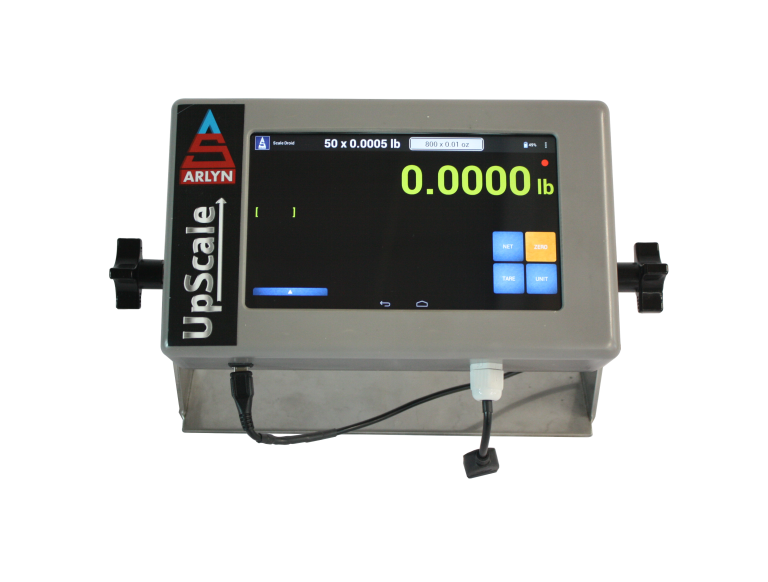 Scales have changed significantly over the past several decades.  In the past, scales featured a simple digital display and a few easy-to-understand buttons for control.  As new scale technology was introduced, the simple digital displays still used by many manufacturers were lacking in a variety of areas.
At Arlyn Scales, we saw a need for a more intuitive display unit. We have recently incorporated the UpScale Touchscreen Indicator as an option for our high quality industrial scales.
What Is the Arlyn UpScale Touchscreen Indicator?
Scales are an integral part of any business that needs to weigh items on a regular basis. With scales being used in a variety of applications, it's becoming increasingly important for scales to be user-friendly.  What better way to make a scale easy to use than by utilizing the versatility of a touchscreen?
Features of the Arlyn UpScale Touchscreen
At Arlyn Scales, we've introduced the UpScale Touchscreen Indicator, which is a state-of-the-art indicator featuring a variety of easy-to-use functions and capabilities:
The UpScale Touchscreen Indicator features a 7-inch high definition IPS capacitive widescreen display, with a 5-point touchscreen area and a resolution of 1,024 x 600.  At Arlyn Scales, we utilized an IPS display to ensure our customers were able to view the display from all viewing angles and lighting conditions.
To ensure our touchscreen display is able to handle the most complex of functions, we're using a robust Quad Core processor featuring 8GB of memory storage and 1 GB DDR3 RAM.  The 8GB of storage allows you to store large amounts of data and the 1 GB of RAM ensures that the touchscreen operates smoothly and quickly at all times.
The UpScale Touchscreen unit is highly water resistant with an injection molded enclosure and rubber gasket to keep moisture out.  An optional stainless steel enclosure is also available to further protect the unit from corrosive materials.
The unit also features a stainless steel swivel bracket that makes it easy to turn the unit to make it easy to view from any angle.  Customers can mount the Touchscreen display on a post, desk or wall, as the unit does not need to be affixed to the scale.
Because many of our customers use our scales in extreme environments, we understand the need for a display that operates in a wide range of temperatures.  The UpScale Touchscreen supports an operating temperature range from 14°F to 104°F, which allows the unit to meet the needs of the majority of our clients.
At Arlyn Scales, one of the most important aspects of our scale technology is their ease of use.  We've found that by introducing our touchscreen technology, we've removed much of the complexity of operating a scale in a commercial setting.
Our UpScale Touchscreen offers an intuitive menu display that requires no training to master.  Your employees will easily be able to master all of the major functions of your scale with very little training or assistance. Our goal at Arlyn Scales is to design a touchscreen display system that is accessible to all.
Our UpScale Touchscreen Indicator rivals the accuracy of our standard digital display and features the ability to adjust the usability of the device through stability controls, zero tracking, user defined software filters and zero motion detection.
Our UpScale Touchscreen Indicator offers a built-in time and date function as well as regional time zone support and even support for daylight savings time.
Support for a Wide Variety of Unit Measurements
The indicator offers support for multiple units, and conversions between each, including pounds, grams, ounces, and kilograms, among others.  The unit also supports a variety of tare functions including tare, quick tare, keyboard tare, database tare storage, instant search and sorting.
Battery life should not be a concern with our Touchscreen Indicator as users can expect 1-2 hours of use after which the unit can be plugged into a power source to recharge its internal battery.
Large Range of Connectivity Options
As is the case with all of our digital displays, our Touchscreen Display allows for a variety of connectivity options, a few of which we've outlined below:
USB – Connect the unit via USB and use free Windows-based data collection software to analyze weight data on the fly.
Ethernet/WiFi – Depending on where your scale is located, you can connect it to your existing network via an Ethernet or Wireless connection. This allows you to access your scale data from anywhere that has an active Internet connection.
RS-232 – An RS-232 connection is a standard serial connection, which was extremely popular in years past, but is being overtaken by newer, faster technology.
Datalogging – Depending on the location of your scale, you may not have access to a corporate network or even a computer. In these instances, it's still important that you have access to your scale's data.  With our datalogging functionality, you can simply connect a USB drive to your scale and save any pertinent weight data to be accessed from a computer at a later time.
Set Point Controller – Our UpScale Touchscreen also supports our set point controller, which allows customers to control filling operations automatically by constantly monitoring material weights and sending electronic signals to control filling equipment as necessary.
Interested in Learning More About Our UpScale Touchscreen Technology?
As you can see, our UpScale Touchscreen Indicator offers a large number of features that are becoming extremely popular with our clients.  If you're currently using a display that is dated, now may be the time to discuss options such as the UpScale Touchscreen Indicator.
At Arlyn Scales, we'll be happy to discuss your current scale needs and show you how you can use our UpScale Touchscreen technology to streamline your weighing efforts, regardless of industry.  Feel free to reach out to one of our team members today by calling us toll free at 1-800-645-4301 or via email through our online contact form.  We look forward to showing you the many features of the UpScale Touchscreen soon.