ArlynGuard F – Approved Intrinsically Safe Floor Scales
Intrinsically Safe Floor Scales
Take advantage of our Explosion Proof Scales that provide intrinsic safety at an affordable price. They feature a power efficient Cortex-M microprocessor incorporated on a single circuit board. Their extremely low power consumption provides long battery life from three (3) rechargeable AA batteries. The scale features stainless steel load cells giving the scale superior overload protection for years of trouble free use. Other features include easy installation, easy to read graphics LCD display, full numeric keypad, easy to use menu driven interface and large memory capacity. The indicator also offers Units Conversion, Net/Gross, Tare, Zero and many other secondary functions. Its housing is made from impact resistant nylon. The optional communications interface allows communication to non-hazardous areas, giving RS-232, analog and setpoint outputs. https://www.arlynscales.com/scales/arlynguard-f/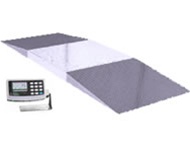 Model
F25
F50
F100
F50-SS
Capacity
2,500lb
(1150kg)
5,000lb
(2200kg)
10,000lb
(4400kg)
5,000lb
(2200kg)
Readability
0.5lb
(0.2kg)
1lb
(0.5kg)
2lb
(1kg)
1lb
(0.5kg)
Platform
Dimensions
3' x 3'
4' x 4'
4' x 4'
4' x 4'
FEATURES
Heavy Duty – Thick diamond plate deck, welded 3" channel steel frame, stainless steel load cells with machined
placement pockets, galvanic epoxy paint coating, no moving parts. (Full stainless construction optional)
Very Accurate – Internal resolution up to 1 part in 500,000. Nominal resolution at 1 part in 5000.
No Set Up or dealer services required. Automatic calibration. Adjustable leveling legs.
Optional Stainless Steel – All models also available in (SS) stainless steel construction.
Other Platform Sizes – Also available in 4'x6', 5'x5', 5'x7', 6'x8'. Other sizes available on request.
ADDITIONAL SPECIFICATIONS
Power Requirements – Uses supplied 2600mah NiMH AA batteries. Two spare sets are provided with recharger. AC Power available with Safety Barrier.
Accuracy – 0.1% of full scale
Operating Temp – 14ºF to 104ºF
Display – Intrinsically Safe, 1" easy to read LCD with status annunciators
Overload Condition –Display warning message at 102% of scale capacity. Mechanical stops prevent damage to 150% of capacity.
Tare, Zero Range – 100% of full scale
Display Speed – 0.5 seconds, adjustable
Electronics – Power efficient Cortex-M based system, self-test feature. All electronics on 1-plug board for easy service.
Weighing Features – Adjustable constants, automatic calibration, 100 alphanumeric memory locations for tare, ID#s, etc.
Options – Setpoints, RS-422/485, and other optional features provided through Safety Barrier giving RS-232, USB, Ethernet, analog, setpoints and other options
INTRINSICALLY SAFE
Class I, II, III, Division 1, Groups A, B, C, D, E, F & G Class I, Zone 0, AEx ia IIC (T3 Ta=60C)
Indoor Hazardous (Classified) Locations. Nonincendive for use in Class I, Division 2, Groups A, B, C and D. Suitable for use in Class II, Division 2, Groups F & G, Class III, Division 2 indoor Hazardous (Classified) Locations
APPROVALS
This ArlynGuard scale is equipped with one or more of:
• Model MKE-5-IS(-C) Digital Weight Indicator System
• Load Cell Models 620-300-IS, 620-100-IS, 620-50-IS, 620-25-IS, 620-10-IS, 520-10000L-IS, 520-5000L-IS, 520-5000IS, 520-2500-IS, 520-1250-IS, 320-500-IS and 320-250-IS which are Factory Mutual (FM) Approved components as per Approval Standard 3600, 3610, 3611 and 3810