Bluetooth Wheelchair Scale
with Fold-up Handrails and Casters for Portability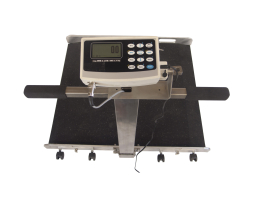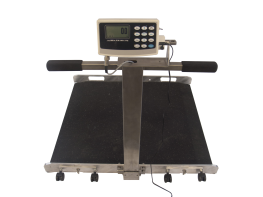 Overview
Bluetooth enabled Arlyn Wheelchair Scales provide excellent durability, accuracy and ease of use for the patient and caregiver in a compact, low cost package.
See more product details
There are four major criteria in evaluating Wheelchair scales. The first is ease of use for a wheelchair bound patient or their caregiver. The second is the accuracy of the scale. The third is the ruggedness and durability. And the fourth is the cost. Arlyn Scale's Model WC-800 provides stellar performance in all four areas.
Premium Quality Manufacturing Process
Superb engineering coupled with excellent workmanship has resulted in a user friendly experience when weighing people in wheelchairs. Specially designed angled load cells provide an unusually low platform profile, resulting in gently angled ramps and easy access onto the generously sized platform. Grab bars provide stability for those people who may need a little assistance if they walk onto the scale.The Wheelchair scales are built right here in East Rockaway, New York, USA to ensure localized quality control and implementation, something that is not provided by our competitors.
Easy to Use
Weight results are shown on easy to read, 1" high block graphic digits. The weight of the empty wheelchair must be subtracted from the total weight to determine the patient weight. This task is greatly simplified by the ability to store in the scale memory the empty weights of dozens of different model wheelchairs. Then the patient weight is immediately determined by just selecting the wheelchair they are using.
Very Accurate
Unrivaled accuracy is the result of industrial grade stainless steel load cells and modern electronic design. As an added benefit, the weight results can be communicated to a facility's electronic medical record system with the Bluetooth communications system.
Stainless Steel Load Cells
While other wheelchair scales utilize load cells fabricated from either aluminum or plated steel, Arlyn Scale's stainless steel load cells will protect the scale from accidental rough handling and abuse. Coupled with a heavy duty, rust free welded aluminum frame, this wheelchair scale will provide years of trouble free service.
Cost Effective
While the features and construction of this scale would suggest a premium price, Arlyn Scale's unique position as a top tier manufacturer of all of the scale components allows prices that are generally only one half of our competitors equivalent units. While other companies may have to purchase the electronic indicators or load cells that they incorporate in their scales, we actually manufacture these items in the same factory as our completed scales. Our factory direct offerings enhance the cost advantages. As a further benefit, Arlyn's Model WC-800 is the only full size wheelchair scale that is designed to be shipped using standard parcel shipping channels, avoiding high cost trucking. This can easily save an additional $100 or more.
Available Upgrades
Time & Date: Time and Date output
Specifications
| | |
| --- | --- |
| Display | 1" High Graphics LCD Digits. Updates between 0.1 and 0.5 second. Adjustable. |
| Platform Dimensions | 30" x 32" |
| Ramps | Entrance and Exit Ramps |
| Mat | Rubber, non-slip |
| Grab Bar | Security for Stand-Up Weighing |
| Power Supply | Internal Rechargeable Battery Pack Included with AC Adapter |
| Load Cells | High Strength Stainless Steel |
| Construction | Welded Aluminum Plate for ruggedness and light weight portability |
| Communication | Bluetooth Enabled with Serial Port Profile (SPP). Fully customizable Print Framework. Direct ASCII Print Output. |
| Extra Features | Tare Memory: Recall empty wheelchair weight for hundreds of models, Motion Compensation, Automatic Calibration. |
| True Portability | Fold down posts, Side Casters, Light Weight, Internal Battery, Bluetooth (no wires required for communications) |
| Affordable | Manufactured Factory Direct results in prices that are only 50% of equivalent scales. Made in USA ensures full localized quality control. |
| Minimum Sampling Rate | 10 Hz |
| Economical Shipping | Designed to ship by UPS for major transportation savings |
Capacities and Platform Sizes
| Product Code | Capacity & Resolution | Platform Size | Price |
| --- | --- | --- | --- |
| WC-800 | 800 lb x 0.2 lb (350 kg x 0.1kg) | 30" x 32" | $1759 |
***CUSTOMIZATIONS AVAILABLE. CALL FOR DETAILS.***