AxChange is the perfect software solution for monitoring, tracking, and managing multiple A&D Scales simultaneously — from anywhere in the world! Within minutes, you can have our revolutionary software installed and ready to optimize your entire weighing operation.
However, to properly utilize its many beneficial features, you have to understand what the software is, what it does, and whether or not it's compatible with your current platforms. Fortunately, these are all simple considerations, and none present a barrier of entry for implementing AxChange in your warehouse, factory, or workplace.
What is AxChange Weight Tracking by Arlyn Scales?
Our AxChange Weight Monitoring and Tracking application is an all-in-one, cloud-based solution for remote operations management for industrial scales. With the AxChange platform, you can conduct real-time weight monitoring across all of your networked scales with ease, which maximizes productivity and minimizes data synchronization issues.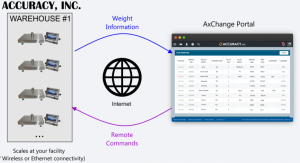 Given that AxChange is managed and operated on the cloud, this allows for scale monitoring on any device, mobile or desktop and there is no software to install.
Is AxChange Monitoring Software Compatible with A&D Scales?
Yes, AxChange weight monitoring software is compatible with A&D Scales. In fact, AxChange cloud monitoring and tracking software can be used on any device, anywhere in the world.
It was designed to seamlessly integrate into, and provide manage data reporting for, any internet-connected scale. This remote accessibility simplifies operations for your floor managers, as they can remotely oversee several industrial scales from A&D Scales concurrently.
With Arlyn Scales, compatibility and accuracy in your weighing operations never have to be a concern again. AxChange was developed to work with your existing equipment in order to minimize barriers to implementation by optimizing operability for your operators.
How Do I Use AxChange Cloud Monitoring with Mettler Toledo Scales?
There are three steps to successfully implement Arlyn Scales AxChange weight tracking in any operation that utilizes industrial scales from A&D Scales:
Contact us for a free AxChange Beta account today.

Let us know the model number of your A&D scale.

Once your account is set up, we will ship you an Arlyn UpScale Touchscreen Indicator.

The UpScale Indicator is capable of communicating with the AxChange Cloud Monitoring System either through Wi-Fi or Ethernet TCP/IP.
We will configure the UpScale to work with your Mettler Toledo scale.

When you receive the UpScale Indicator, simply connect the indicator to your A&D scale (through a common connection such as RS-232 or RS-485).
Connect the UpScale Indicator to your Local Area Network through Wi-Fi or Ethernet.
The UpScale Indicator will make a connection to AxChange Cloud and start transmitting weight data to the cloud.
You can now log in to the AxChange Cloud platform and monitor your weight from the Mettler Toledo scales.
AxChange: Update Your A&D Scales Industrial Weighing Operations
The software for A&D Scales can often be outdated, with many programs boasting a UI (user interface) that's just unpleasant to look at. This complete solution for process monitoring is the perfect tool for bringing your A&D Scales industrial scale operations into the 21st century.
With AxChange for A&D industrial scales, you have thorough access to critical data, right at your fingertips. Better still, that data is presented in a clean, modern UI that minimizes confusion and maximizes operability.
Furthermore, you have a trusted solutions partner in Arlyn Scales. We developed this software to provide industry professionals, like you, with a simple, reliable, and handy way to optimize your productivity.
Monitor Your A&D Scales with AxChange by Arlyn Scales
What's the point of collecting data if you find it difficult to monitor that data and track changes in real-time? For professionals across a diverse range of industries, it's vital to have a reliable connection to their weighing data, regardless of where they may be.
At Arlyn Scales, our cloud-based, weight monitoring solution ensures that everyone is looking at the most current data available to your industrial scale operators — even when they aren't in the office. The result is that your production, sales, and fulfillment processes run on reliable data at all times.
In the middle of a board meeting and you want to access measurements from a specific scale on the other side of the planet? Arlyn Scales has got you covered. For more ideas on how to use AxChange by Arlyn Scales to remotely monitor your A&D Scales, reach out to our team today.