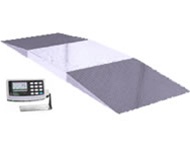 Getting a warehouse floor scale can make your business work better. Industrial quality floor scales made by ArlynScales are built to last a very long time, and can be customized to multitask. If you are in the warehouse business, then having a sturdy, sophisticated floor scale can save you time and money. Shipment warehouses (among others) must also log the weights of items to be shipped to ensure cost effectiveness, alleviate safety concerns related to long distance transport of goods, and keep regular inventory. Usually in a warehouse or factory setting, the transportation of heavy loads from one end of the company to the other is routinely done using forklifts, pallet jacks, or even a small tractor. It would not be economical to do these types of jobs by hand even partly. If the load transported on a pallet needs to be unloaded by hand from the pallet in order to be weighed, you have already lost both time and money. What you need is a floor scale with tare functions, an easy zero button, and a net/gross switch. That way, you can just roll a pallet jack with a heavy load on top of the scale platform, and with the touch of a button, easily subtract the weight of the pallet jack/ forklift. The same could be said of larger floor scales that have to accommodate very high capacity loads which must be driven onto the scale platform in a vehicle of some kind. At ArlynScales, our digital floor scales have displays with all these functions and much more. You can get one that can sort and batch your loads for you. It can be programmed to give you item descriptions, provide parts counting, and printer layouts. Then once you are done weighing a batch, you can print all this data wirelessly by connecting your scale it to a printer located somewhere else in your warehouse. This will help you easily create of accurate manifests and/ or product logs. We have developed software downloads to help you do more than this. You can select from different technologies we have available that will allow you to send data from your floor scale remotely to a computer database program, for highly accurate tracking of all products in your warehouse. These reports would be free of human error, since all data is sent directly from the scale. There would be no need to record the weights separately and then manually input them into your companys database. Products available from ArlynScales that can be loaded into your floor scales digital display to make your warehouse more productive include:
Ethernet Connectivity
RS-232 Computer/ Printer port
RS-485 port
Memory Card Datalogging
USB port
Winwedge- Windows Interface Software for RS-232
And much more.
In addition, ArlynScales makes our floor scales out of rugged welded steel, or optionally, from stainless steel. In fact, even our load sensors are made of stainless steel for maximum durability. Many other manufacturers dont bother with the expense of using stainless steel load sensors, but the result is a scale that doesnt last as long as ours. Other weaker metals bend and break under the continued pressure of heavy loads, and they are less corrosion resistant. If you need a floor scale for your warehouse, contact us today for a superior quality model that will do more than just weigh loads for you.